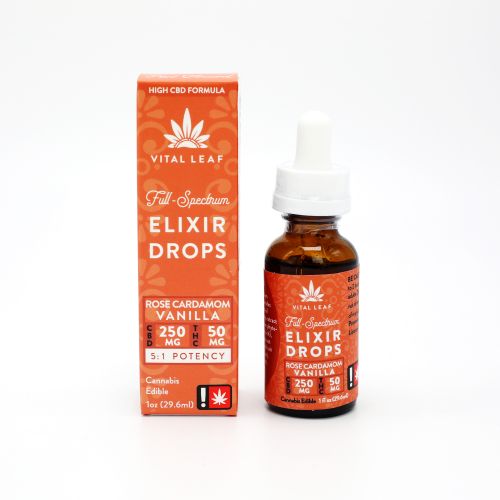 Rose Cardamom Vanilla - 5:1 Full Spectrum Elixir Drops - 1 oz.
THC: 50mg - CBD: 250mg

Vital Leaf's Rose Cardamom Vanilla Elixir Drops are formulated using high-potency, phytocannabinoid-rich, full-spectrum hemp extracts. They're a delicious blend of organic coconut derived MCT (Medium Chain Triglyceride) Oil and full-spectrum hemp extract, enhanced with a sweet hint of the ancient Chinese medicinal herb, Lo Han Guo, otherwise known as Monkfruit, and pure organic extracts of rose, cardamom, and vanilla bean. Vital Leaf Elixir Drops are a smooth, decadent, and convenient way to revitalize your day!